DO YOU CONSIDER YOURSELF AN EXPERT?
Details

Written by

Jane
During my last live feed, I spoke about the two questions you need to be able to answer:
who are the people that you serve?
what are the problems that you solve for them?
The more you gain clarity over your answers to these questions, the more you will realise that selling is not a dirty word, or a word to be afraid of, but can be very helpful to the people you serve.
Remember, clients are not skin care experts. We are. Clients can be indecisive, procrastinate and fail to achieve their own goals and wishes because of not knowing what action to take. In our profession, we should see it is our responsibility to look out for the people who need our help and be ready to win their trust in order to guide them through the decision-making process. We can then help though this so they can benefit from what we do, and they can go onto realising the benefit of that.
So, on 1st January 2020, decide that you are on a mission to help people and that the role you play as a sales professional is in service to those people. Quickly you will start to see that the opportunity to help is everywhere and the potential for you to grow your customer base is abundant.
What faces are you wearing?
Building report is a crucial skill when looking to attract new customers and it starts with one simple action that's often overlooked. The first thought someone has when they meet you for the first time is "Do I find you attractive?" and it has been proven that we all are more attractive when we're smiling.
The good thing about a smile is it infectious. If you smile at someone they can't help but smile back.
Smiling is something that we do with our whole face so how often do you smile?
Understanding that you smile with your whole body is a key lesson when attracting people to you. Open body language and a positive stance attract people. Mirroring is a good trick to do also.
Anyone who sells or has bought over the phone knows you can hear a smile. I know that the tone of my voice is very different if I'm smiling. In the first few seconds of a call you can hear the warmth in the voice , which affects instant decisions about whether you like or dislike the person. So be in this zone before picking up the phone.
Consider the smile your whole company makes. From your logo to your dress code (which I have covered in a previous feed), to the way you answer your phone. It all demonstrates your company's personality.
As we all know, life gets in the way, so place memory joggers in your environment that act as a switch to trigger your happy face.
Networking
I have shared before that I am not a lover of networking, but this is something I'm going to have to overcome when I move to Spain.
Whether you are in a formal, structured event or a large open networking session, there are potential new clients there.
I've done some research into why I find networking so uncomfortable. One reason could be that we are conditioned as a child through a simple sequence of words "Don't talk to strangers". To overcome this, decide that pretty much everybody else is feeling the same as you.
Here are some tips that have worked for others in terms of networking:
Have a plan. Regardless of the size of the room, it's unlikely that you can develop lasting relationships with everyone in the room. Set a goal and stick to it. It maybe to make X number of connections or arrange X number of consultations. If an attendee list is available before the event, do your research before, identifying where you can best direct your efforts
Know what you are going to talk about. Starting a conversation is the hardest thing to do when entering a room full of strangers. To open conversation, the easiest place to start is by talking about a subject that you all have in common, i.e. the event you are at. As such, plan a series of questions related to the event that allow you to be able to create a comfortable exchange and break the ice with strangers
Talk of how you help people. You will get the "So what do you do then". I don't advise saying you're a beauty therapist but talk about how you help people. I help X achieve Y. This allows the other person to ask more about what you do. Be prepared to share examples and stories of your work as opposed to facts
Questions for a roomful of strangers
What bought you here today?
Where have you travelled from today?
What are you hoping to get out of this event?
How did you find out about today's event?
Do you attend many events like this?
How are you enjoying the event?
Is there anyone specific you are hoping to meet today?
The most important person in your life is YOU. So, when connecting with others, you need to understand that they are the most important person in their own lives. When given the choice, people look to do business with those they feel they know, like and trust. Building these feelings is rarely achieved if all you talk about is yourself.
As I said in my previous live feed, decisions are made with emotions before logic so the results you are looking to achieve is that it 'feels right' to do business with you before you even look for it to 'make sense' to do business with you. The most successful approach you can take is to understand that your prospect is the most important person in their life. By showing a genuine interest in them, you demonstrate a true level of connection with them, their situation and their circumstances. This means asking questions and listening.
By listening intently, you are demonstrating that they are important to you and this will help them feel good. Think about the providers that you are most loyal too: hairdressers, local restaurants or bars etc. The chances are that your decision to continually do business with them is influenced by your feeling that they have a genuine interest in you.
Maintain eye contact in your conversations, repeat back what they have shared to show understanding, and catalogue key pieces of information that they share for you to bring back into future conversations and discussions.
Remembering, recording and using the names of people is a great way of demonstrating your genuine care for other people.
In addition to remembering key facts about others, you probably want to make yourself more memorable too. Remembering names is not easy but others remembering yours will certainly have an impact on your success. When you are meeting a stranger for the first time, there is a strong possibility that they will fail to catch your name because their mind is elsewhere in the split second that you share it. A very simple trick to increase your chances of being remembered by name is to slow down the process. When introducing yourself, give your name twice. First you should give your preferred method of being addressed, followed by your full name, including surname. So, I would introduce myself as "Jane, Jane Bryan".
If you are looking to create more opportunities, open more doors and create a heap of clients, then you need to be seen as the expert in your field.
The word expert may make you feel uncomfortable and could make you wonder how you could possibly position yourself as such. The little inner voice or mind monkey can easily start telling you that you haven't studied enough, learned enough, or simply don't yet know enough to be perceived as the expert.
When you take an honest look at your own experience, you can start to realise there are many areas of your experience in which you have expansive expertise. Perhaps it relates to how your skill has changed the lives of others.
Maybe it's a story around our profession and so on. Unlocking your expertise and positioning yourself as that person outwardly allows you to build your reputation quicker, establishes your authority and starts more conversations with potential clients.
So, what is your area of expertise?
the massage therapist for fibromyalgia
the fertility reflexologists
the nutrition expert for busy mums
the skin care expert for the over 50s
These specific new shoes provide you with a razor-sharp focal point to develop expert based platforms that help create more opportunity. BUT you need to have an understanding of who your key target client is.
And in today's social networking in the ability to do live feeds it is easier to position yourself as an expert.
You could offer to do presentations or talks about your subject such as:
Speaking at seminars and networking events
Writing guest blogs for industry and magazines
Running webinars
Delivery podcasts
Producing informational videos for YouTube
Social Networking
Regardless of what platform you choose to use, remember:
Just like in the real world, first impressions count. Before you promote a profile, take the time to complete your profiles fully. To make your profile as attractive as it can be, imagine the profile is the equivalent of a retail shop front and be confident that it is a representative of your current and future best self. Ensure that all your biographies and details are current and represents you correctly.
Visual appearance is also critical so be consistent with your branding, your colours and the style in which you write. Make sure any graphics you use are cropped to the correct size for the platform and display effectively on all major devices.
Many social networking sites allow you to upload your customer list so once done you need to connect with as many clients and contacts as possible.
Add social media icons to your email signature and stationary.
It is hard to get customers to connect with you. You could try running a competition or a great offer to reward them for visiting your profile and connecting with you.
In terms of content the key to remember is it these are social platforms. Most people on these platforms are not on them to be sold to. To be interesting you need to be varied with your communication and show yourself as human. If your message becomes monotonous, you become boring and people stop listening. So, keep your content varied with a mixture of:
Education: demonstrate your expertise by sharing content using mixed media such as blog articles, infographics and videos. You can also share great content made by others who have valuable information that would help your audience
Engaging: social media is a tool to start and join conversations, so please make sure you're using it for such. Follow your clients, suppliers and prospects and be sure to engage in their communication. Similarly, produce posts and content that ask questions, encouraging others to add to it and join the conversation
Entertaining: A big reason that many people invest time in following others on social media is the desire to be entertained. So how entertaining are your posts? Share more of the real you by demonstrating some of your lifestyle, sharing your experiences or showing hidden talents.
Social Proof
It doesn't matter how good you are at something unless you have evidence of that reputation in a place where others can see it. It is your job to prove to your future customers that you are highly competent in all that you do and to make it easy for them to place their trust in your hands by showing the positive experiences others have had in the past. And all we have to do is ask our clients for that social proof. Trust me, once you start asking clients for social proof, they will offer it. Once you have that social proof you need to put it in front of as many people as possible.
Don't know how to ask for it?
"Hi X. I Was wondering if you could do me a small favour. PAUSE If you are happy with the work that we have done for you, then it would be a huge help if you would be kind enough to take a few moments and share it in writing. IF THEY AGREE. Thank so much for that and I look forward to reading your
Dermaplaning Student Testimonial
Details

Written by

Jane
If you would like information on our Dermaplaning special offer (only a few dates left) please email This email address is being protected from spambots. You need JavaScript enabled to view it.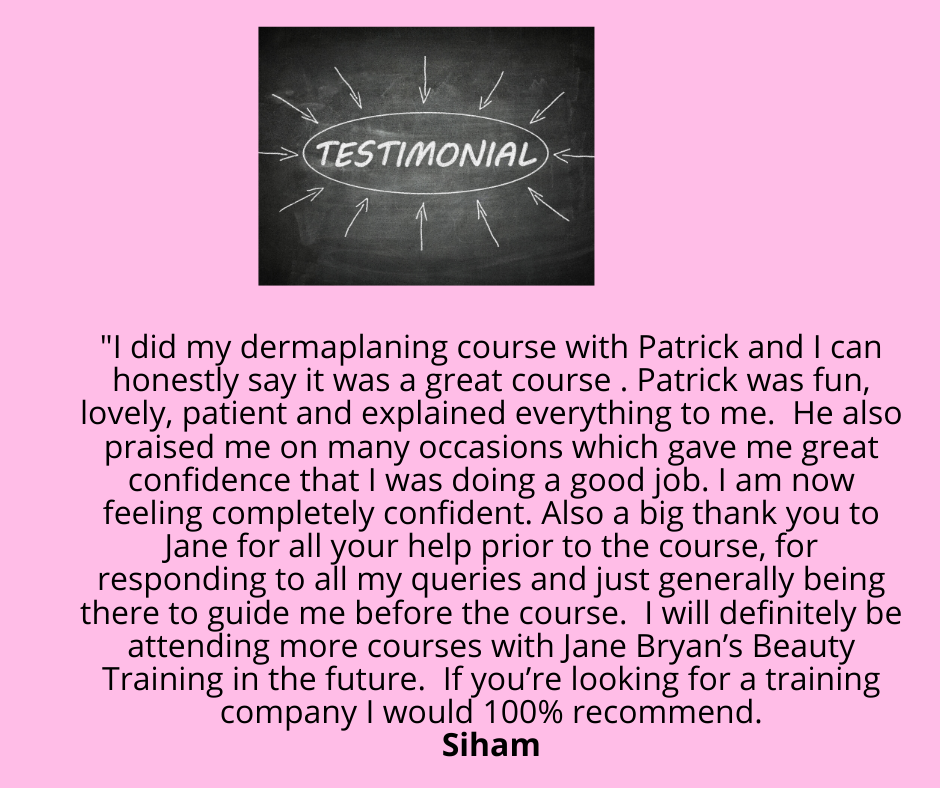 New Trainer/Venue: Houghton le Springs, Tyne & Wear
Details

Written by

Jane
We are delighted to announce our new trainer in Houghton le Springs, Tyne & Wear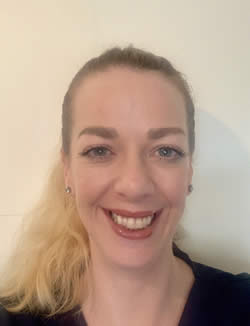 Debbie Williamson has been in the Beauty and Aesthetics industry for the past 10 years. She is currently studying for herBA (hons) Degree in Advanced Skin Techniques.
She ran her own mobile beauty business for 7 years working from clients houses,as well as out of salons. She also did a 9 month stint working for Steiner on the Cruise Ships before moving to London to manage a high end High Street Spa in Fulham.
Debbie says "I am very excited about the next stage and I can't wait to see what the new level of therapists can bring"
Debbie will be initially offering the following courses:
BEAUTY
Body Wraps
Lash & Brow Tinting & Shaping
Lash Extensions
Manual Tanning
Shrinking Violet Inch Loss
Spa Body Treatments
Spray Tanning
ELECTRICAL TREATMENTS
Electrolysis
Galvanic & High Frequency
Microcurrent
Radoi Frequency
Microdermabrasion
FACIALS
Facials & Skincare
Skin Needling
HOLSTICS
IPL & LASER
IPL Hair Removal
IPL Skin Rejuvenation
MASSAGE
Back, Neck & Shoulder Massage
Deep Tissue Techniques
Hand & Arm/Leg & Foot Massage
Indian Head Massage
Pregnancy Massage
Swedish Body Massage
NAILS
Gel Polish
Manicure
Pedicure
WAXING
Facial Waxing
Female Intimate Waxing
Foundation Waxing