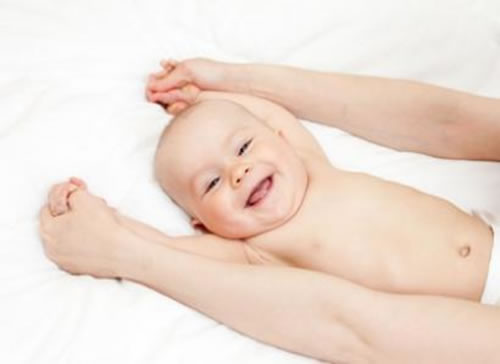 Cost: £221, including booking fee of £96 (inclusive of VAT)
Pre-Requisites: A&P & Body Massage
Course Length: ½ day
What is Baby Massage?
Baby massage has been a longstanding parenting tradition in many Eastern cultures, such as in India, Africa and Asia, and has been introduced to the Western world during the last 30 years, but it is not to recently that is has gained popularity in the UK. Baby massage is when a parent or primary carer lovingly strokes or holds their baby. Using a high quality non-fragranced vegetable oil, soothing holds and rhythmic strokes are given on each are of the baby's body, following a sequence which has been developed over many years. The massage offers a wonderful experience and a special time to communicate both verbally and non-verbally with babies and small infants, so that they feel loved, valued and respected.
Course Content & Learning Outcomes:
Baby Massage

History
Benefits
Baby Communication
Do's and Don'ts
Use of Massage Oils
Massage Movements
Clinical Studies

Consultation & Contraindications
Setting-up Baby Massage Classes
Relevant Anatomy & Physiology
Treatment Routine
Common Ailments
Risk Assessments
Safety & Hygiene
Health & Safety Regulations
Professional Ethics & Standards of Practice
Business Practices

Business plans
Treatment costings
Insurance, Complaints & Malpractice
Registering & running your business
Legislation
Marketing & PR
Record keeping
Cancellations

General Tips (e.g. how to review products, selling skills, tips to getting more traffic, marketing tips etc)
Course Structure:
Home Study (2 days guided learning)
½ day practical
Case Studies: Business Plan and development of course
Awarding Body: ABT & Towergate
Venues:
This course is available at:
Derbyshire (Alfreton)
Dorset (Ferndown)
Essex (Ongar)
Hampshire (Winchester)
Leicestershire (LFE)*
Liverpool
Somerset (Burnham on Sea)*
Wales (Cardiff)
West Midlands (Walsall)*
Yorkshire (Wakefield)*
SPAIN (nr Albox, Almeria)
In-house training available