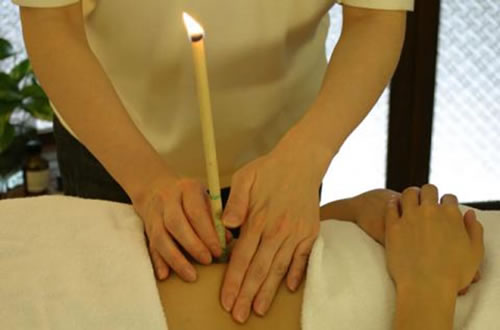 Cost: £295, including booking fee of £110
Pre-Requisites: A&P Level 3 + Massage
Course Length: 1 day
What is Malay Naval Candling & Abdomen Detox Therapy?
This abdominal and navel therapy belongs to the oldest form of therapy within the traditional Malay Medicine. The aim is to work the entire body by combining different manual techniques such as Urut (massage) , herbs (applied externally) to abdomen, and navel candling in order to achieve a flow of Qi and blood along the meridians and organs and regulating them. By the help of this stimulation and regulation the functioning of the 4 elements (Malay organic system) is being restored
Traditional Malay beauty treatments are generally family secrets that are handed down from generation to generation and rarely shared for commercial gain. However, with younger generations showing less interest in the traditional beauty treatments, older generations are more willing to share less the art dies with the lack of practitioners.
So, what was once practised behind closed doors by midwives, healers and wedding planners or more commonly known as "mak andam" are now revived and shared to keep the art of Malay beauty treatments for dying.

Traditional Malay Massage helps rid the body of excess 'onion' or wind helping to release negative energy. The abdomen houses vital organs and is a very important part of the body. The abdominal cavity comprises of the stomach, diaphragm, colon, small intestine, liver, pancreas, and gall bladder. The health of the abdomen lies with the stomach, the digestion process and reproductive organs.
Course Content & Learning Outcomes:
History and benefits of Malay (Indonesian) Massage and Navel Candling
Your working environment
Code of practice & insurance for therapists
Consultation including contraindications
Contra-actions/ aftercare advice
How to use Steamed Herb Compresses and Navel Candles
Marketing advice
Anatomy & physiology for this treatment
The Malay (Indonesian) Navel Candling & Abdomen Detox Massage Therapy™ routine
Course Structure:
Home Study (2-day guided learning)
1 day practical
2 Case Studies
Awarding Body: CMA
This course is run by ZJB Training

Venues:
This course is available at:
Essex (Ongar)
SPAIN (nr Albox, Almeria)
In-house training available