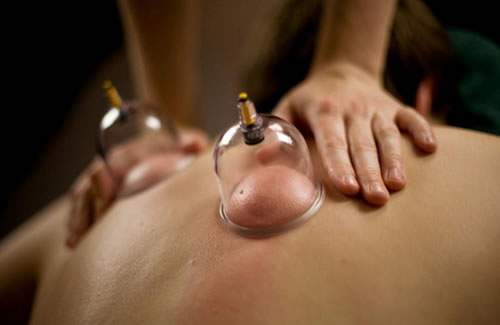 Cost: £276, including booking fee of £96 (inclusive of VAT (includes cupping kit)
Pre-Requisites: Massage & A&P Level 3
Course Length: 1 day
What is Cupping Therapy & Massage?
Cupping is one of the oldest and most effective methods of releasing toxins fromthe body's tissues and organs. Other terms for cupping are: fire cupping, bodyvacuuming, and the horn method.
Cupping is the practice of applying a partial vacuum by means of heat or suction inone or several bell-shaped vessels (suction cups) to parts of the skin. This causes thetissues beneath the cup to be drawn up and swell increasing blood flow to theaffected area. This enhanced blood flow under the cup draws impurities and toxinsaway from the nearby tissues and organs towards the surface for elimination. The time the suction cups are left in place varies according to the patient's age and physicalconstitution, and the medical disorder being treated.
Cupping is a safe, non-invasive and inexpensive technique. It is used to alleviate thepain and discomfort arising from disorders of the lungs and ther internal organs,muscle spasms, joint pains, and numerous other conditions.
Course Content & Learning Outcomes:
Cupping Therapy

History
Benefits
Clinical Studies
Cupping Therapy Types
Types of Cups
Cupping Marks
Guidelines & Precautions

Consultations

Contraindications
Client Consultation
Aftercare Advice
Healing Effect

Treatment protocols
Cupping therapy points
Risk Assessments
Safety & Hygiene
Health & Safety Regulations
Professional Ethics & Standards of Practice
Business Practices

Business plans
Treatment costings
Insurance, Complaints & Malpractice
Registering & running your business
Legislation
Marketing & PR
Record keeping
Cancellations

General Tips (e.g. how to review products, selling skills, tips to getting more traffic, marketing tips etc)
Course Structure:
Home Study (2 days guided learning)
1 day practical
5 Case Studies
Awarding Body: ABT & Towergate
Venues:
This course is available at:
County Durham (Darlington)*
Derbyshire (Alfreton)
Durham (Darlington)*
Essex (Ongar)
Hampshire (nr Winchester)
Wales (Cardiff)
SPAIN (nr Albox, Almeria)
In-house training available